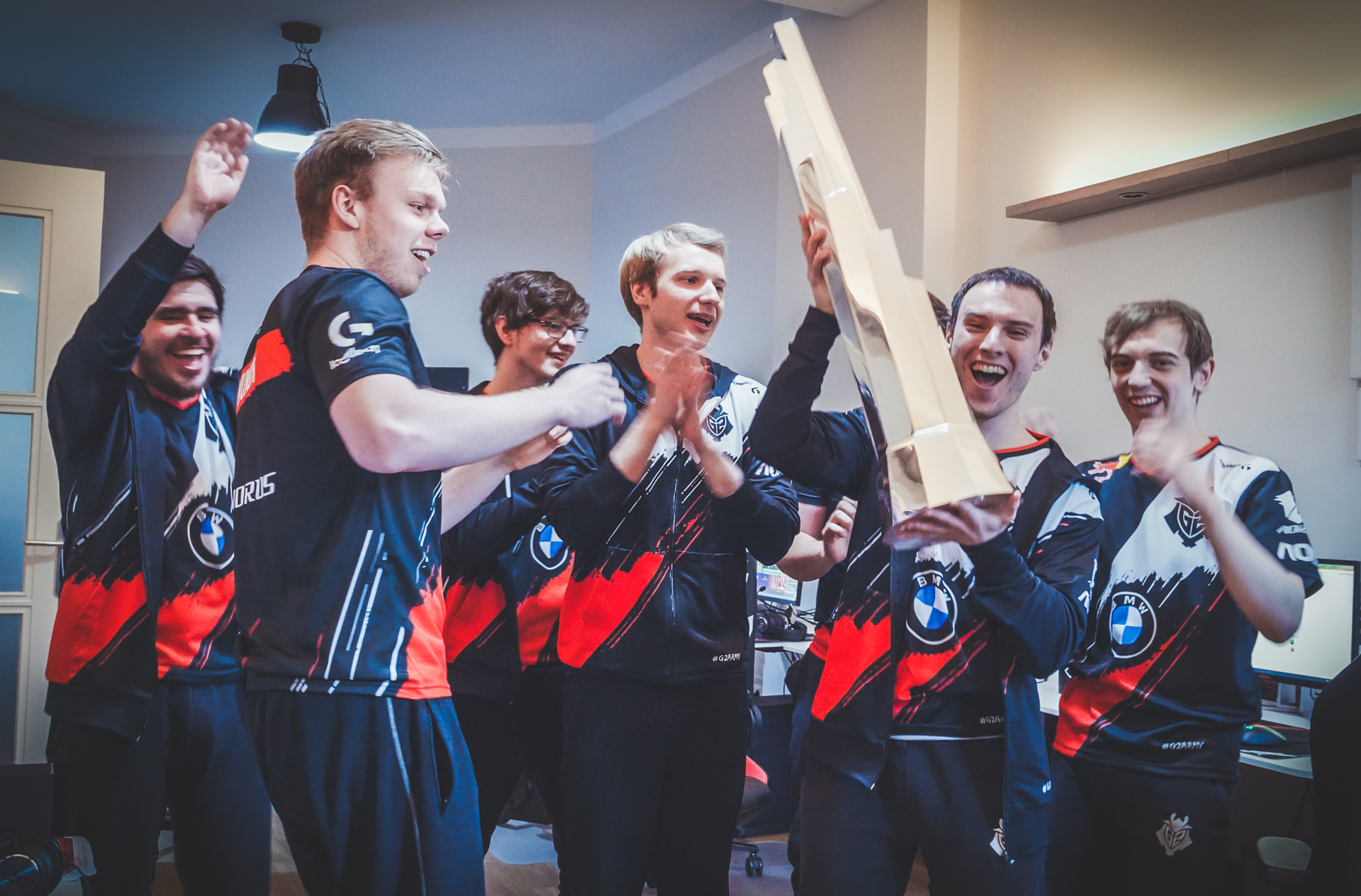 虎扑4月20日讯 在昨日结束的2020LEC春季赛季后赛中,欧洲春晚又一次由G2和FNC两支宿敌对阵,今年又一次G2以3-0的战绩横扫了FNC,G2夺得了他们的第7个联赛冠军。赛后Reddit网友对此进行了讨论。
[-]iyoiiiiu
[All] FNC Bwipo: "fking zac passive preventing me from dying"
[所有人]FNC Bwipo:"扎克这被动不让我死啊"
[-]Redeagl
G2 Bwipo *
应该是G2 Bwipo
[-]Trap_Masters
Ocelote: "Hey Bwipo, G2 here. Can you make it less obvious that we paypal'ed you the money this series? Thanks."
Ocelote(G2老板):"Bwipo你别明着演啊,这样大家都知道我给你打钱了。"
[-]Liminal_Millennial
There's something ironically surreal about G2 stomping their way to victory playing very normal front-to-back mid-bot-focused League of Legends.
GG, the org are now 7/9 for European championships since joining the league.
G2这个决赛真的是变着法拿下了比赛胜利。
比赛确实好看,G2成立以来9个赛季拿了7个冠军,太顶了。
[-]EnergetikNA
How the fuck are they 3-0ing a FNC that looked so good...
I knew they'd have a mental edge going into this because of all those times last year where G2 came out on top over and over again, but god damn
3-0的比赛还挺好看…
虽然知道他们去年就面对G2时出现了心理问题,但今年确实有点离谱
[-]vooffle
I think G2 just came better prepared. Not sure who saw Kog Lulu coming, and that Janna from Miky was making Bwipo's Zac useless.
我觉得G2准备的更好。没人会想到璐璐大嘴的组合会上场,Mikyx的风女让Bwipo的扎克几乎无作用了
[-]Mathmagician94
doesn't help when wunder smashed bwipo in lane every game.
Wunder对线就把Bwipo爆了
[-]resttheweight
In both sides of the same matchup...
还是教学局
[-]Ceyro
Especially when Bwipo was the first to bring the Zac in, thought he would have an edge in that matchup but Wunder completely outclassed him
尤其是Bwipo先拿扎克,Wunder拿到扎克后比他强太多了。
[-]Boogy
Really makes me think back to all the times Wunder got flamed during the split. I also think it's ironic Bwipo was so cocky in EUphoria, claiming there are no good top laners in Europe and how he was the absolute best in the lane.
让我想起来这个赛季Wunder的表现一直都不错。我觉得这Bwipo这么狂就离谱,说的好像欧洲就没有好上单就他最强一样。
[-]MALSTROEM_
Wunder is probably gonna end up as one of the most underappreciated players of all time, he literally doesn't give a shit about regular season, coasts all year long while grinding WOW but when it matters he turns it up and he's the best top laner in the west
Wunder一直以来都是最被低估的上单,常规赛他看不上眼。但是关键时刻他就会站出来,展示出他就是西方第一上单。
[-]Ps4udo
As perkz said, his complete lack of ego lets him pick anything for the team to win the game
就像perkz说的,他不自大,他是分奴型选手,一切为了团队和胜利。
[-]lukaswolfe44
Wunder we need you to play tank Katarina top with ghost and heal to win.
Wunder: K, let me win lane rq
教练:Wunder啊,这把为了团队你需要玩个疾跑治疗上单肉卡特。
Wunder:就不能让我选一把对线优势英雄嘛
[-]Yubisaki_Milk_Tea
Apparently G2 never practiced Kog Lulu. Jankos and Perkz just said in the post-series interview that Caps couldn't sleep until 5am and it came to him in a dream. Not sure if they were meme'ing but it would explain why FNC got blindsided.
G2明显是没练过大嘴璐璐的。Jankos和Perkz在赛后采访中都说到Caps知道凌晨5点才睡觉,然后梦见了这个组合。不太清楚他们是不是在口嗨,但很明显FNC不太懂得变通。
[-]vooffle
It could be real, but Caps dreams have been at least a bit meme since he dreamt JDG winning LPL last spring.
感觉是真的,但是Caps的梦还是有不太靠谱,他去年还梦到JDG拿到LPL春冠呢。
[-]DrayanoX
Tbh no one expected JDG getting all the way to LPL finals and even less them going 3-2 vs IG
说实话没人能想到JDG能一路过关斩将进入决赛跟iG打个3-2的。
[-]Acconic
JDG went 3-2 vs IG in the 2019 Regional Gauntlet. IG stomped them previously 3-0 in the Spring finals obviously ending their miracle run.
JDG是在资格赛和iG打成3-2的。iG季后赛打了个3-0,结束了他们的奇迹之旅。
[-]Khenir
It's partially just because Fnatic stop knowing how to fucking play the game somehow when they do play against them.
They were winning, then take one bad fight, give up on securing dragon soul, then int over the baron as well.
Newsflash guys: if you could have made that trade over, you wouldn't have needed to.
感觉是FNC再次面对G2的时候不知道怎么打比赛了。
他们赢了一次,但是之后团输了,没能保下龙魂,大龙那波团送了。
知识点兄弟们:有的时候可以换血,但没必要
[-]EnergetikNA
imagine how tilted Rekkles is
loses to roleswapped ADC twice last year, loses to ex-teammate roleswapped ADC this year in a dominating fashion
想想Rekkles吧
去年输给了换位置的兄弟两次,输给了前换位置的队友
[-]russellx3
If ya can't beat em buy em
打不过,就买过来
[-]yelsew_tidder_
5/7 for Caps and 7/9 for Perkz and they've only ever lost to each other!
Edit: They've actually only lost to each other once each, both losing to Misfits in 2017 and 2018 Summer. Caps7个赛季5个冠军,Perkz9个赛季7个冠军,而且他们都是互相输给了对方
他们除了互相输过一次外,在2017年和2018年夏天都输给了MSF。
[-]throwawayaccountdown
(以下两图为Bwipo女朋友)
宝贝,你是FNC的人不是G2的
[-]Jaterrionthrow

就你打这样晚上就别进家门了
[-]Blazing117
G2 fans meme game in full force today.
G2粉丝整活力度火力全开
[-]buttsoup_barnes
I would hate to be a FNC fan right now
我现在觉得当FNC粉贼操蛋
[-]uselessBMO
I'm a FNC fan but I still love memes, so I don't hate it.
我是FNC粉,但我也比较喜欢梗
[-]lolgambler
janna > zac
风女>扎克
[-]WhoStoleMyZaps
Seeing bwipo dive into all of G2, only to be stopped halfway through was the most anticlimactic shit ever lol
看Bwipo越塔G2,总是被半截拦下来笑尿我了
[-]SaulJoker
Bwipo lowkey smiling at his phone because he checked his bank account lol
Bwipo看着自己银行账户不断上涨的余额,嘴角上扬。
[-]HoodedRS
FNC lost this BO5 in 85 minutes.
FNC输掉本场BO5仅用了85分钟
[-]Hazakurain
Nearly got smashed as hard as TL
被碾压的有TL内味儿了
[-]FrostBlade_on_Reddit
The meta is definitely slower too
而且现在版本还是节奏比较慢的。
[-]Pavlo100
These were some fun scrims, can't wait for the actual games to start!
好了,训练赛打完了,等不及要看正赛了
[-]Danny_Bomber
Now that we've got a bracket reset, the real B05 starts
刚才的BO5不算,现在才是真正开始
[-]itsViiPER
MASSIVE top difference
上单巨大差距
[-]KanskiForce
They got BMW sponsorship, right? BMW - better mid wins
他们有BMW赞助吧,BMW:变猛的mid队伍赢
[-]00Koch00
Fnatic Objectives:
2018: Win Worlds
2019: Win LEC
2020: Not getting the fastest Bo5 in Europe
At least they got this year objective ...
FNC目标:
2018:拿下世界冠军
2019:拿下LEC冠军
2020:在欧洲赛区不要创最快3-0记录
起码今年目标达成了
[-]phoenix744
Bwipo getting solo killed twice in 5 minutes summed up the series
Also, how tall is Wunder? the man seems to tower over the others....
Bwipo这个BO5前5分钟被单杀两次。对了Wunder多高啊,这个人跟其他人比起来像个塔
[-]khaiiization
What if G2 is just that cocky that they didn't prepare drafts versus other teams but FNC
我觉得G2就是针对FNC,打其他队就随便玩,打FNC就不翘尾巴
[-]realproject
Apparently Caps decided he wanted to play Lulu Kog maw last night and Jankos said they did not practice it at all. So..
很明显Caps决定昨晚上想来个璐璐大嘴组合,Jankos也说了他们没练过的
[-]Thanaatus
G2 limit testing playoffs.
都怪季后赛赛程,没办法让G2训练
[-]9eemu
This looked like EU vs China at worlds
有世界赛决赛欧洲打LPL内味儿了